Park Systems
Park Systems strives everyday to live up to the innovative spirit of its beginnings. Throughout our long history, we have honored our commitment to providing the most accurate and yet very easy to use AFMs, with revolutionary features like True Non-Contact™ mode, and many automated software. We are not simply content to rest on our past success. All of our products are designed with same care and creativity that went into our first, allowing you to focus on getting results without worrying about the integrity of your tools.
After over quarter century of continuous growth and product innovation, Park has the longest history of AFM business in the industry. The company has developed a global sales network of over 30 countries and has more than 1000 AFMs in use around the world. It is the fastest growing AFM company with more than 120 full time employees dedicated to producing the most accurate and easiest to use AFMs.
Park Systems Corporate Video
The foundations for Park Systems were laid at Stanford University where Dr. Sang-Il Park, the founder of Park Systems worked as an integral part of the group that first developed AFM technology. After perfecting the technology, he then went on to create the first commercial AFM and later Park Systems was born.
1985 - 1986
Development and realization of Atomic Force Microscopy (Gerd Binnig, Christoph Gerber, Calvin Quate, Group of Prof. Calvin Quate, Stanford Univ.)
1989
Commercialization of AFM (Park Scientific Instruments).
1997
Founding Park Systems (formerly PSIA).
2002
Development of Crosstalk Eliminated (XE) AFM series for better feedback and imaging.
2004
True Non-Contact Mode™ for Non-destructive Sample Scan.
2013
Park NX-HDM : Fully Automated Automatic Defect Review and Sub-Angstrom Surface Roughness for Hard Disk Media and Semiconductor Substrates.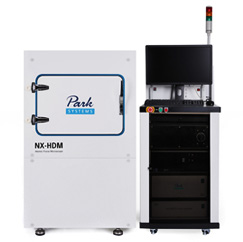 Nov, 2014
Park SmartScan : Professional AFM Images with a Three Step Click SmartScan by Park Systems Revolutionizes Atomic Force Microscopy by Automatizing the Imaging Process.
July, 2015
Park NX-Hivac : High vacuum atomic force microscope for failure analysis and ​atmosphere-sensitive materials research.
Dec 16, 2015
IPO: Park Systems, World Leading Manufacturer of Atomic Force Microscopes with AA Rating Announces One Million Shares in IPO Listing on KOSDAQ.
June, 2016
Park NX20 300mm: The leading automated nanometrology tool for 300 mm wafer measurement and analysis.